Four Thousand Weeks by Oliver Burkeman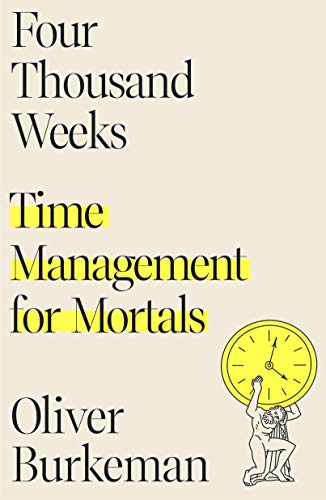 Assuming you live to be eighty, you'll have had about four thousand weeks.

We've been granted the mental capacities to make almost infinitely ambitious plans, yet practically no time at all to put them into action.

The world is bursting with wonder, and yet it's the rare productivity guru who seems to have considered the possibility that the ultimate point of all our frenetic doing might be to experience more of that wonder.

It turns out that when people make enough money to meet their needs, they just find new things to need and new lifestyles to aspire to; they never quite manage to keep up with the Joneses, because whenever they're in danger of getting close, they nominate new and better Joneses with whom to try to keep up. As a result, they work harder and harder, and soon busyness becomes an emblem of prestige.

Our days are spent trying to "get through" tasks, in order to get them "out of the way," with the result that we live mentally in the future, waiting for when we'll finally get around to what really matters—and worrying, in the meantime, that we don't measure up, that we might lack the drive or stamina to keep pace with the speed at which life now seems to move.

Productivity is a trap. Becoming more efficient just makes you more rushed, and trying to clear the decks simply makes them fill up again faster.

The day will never arrive when you finally have everything under control—when the flood of emails has been contained; when your to-do lists have stopped getting longer; when you're meeting all your obligations at work and in your home life; when nobody's angry with you for missing a deadline or dropping the ball; and when the fully optimized person you've become can turn, at long last, to the things life is really supposed to be about. Let's start by admitting defeat: none of this is ever going to happen.

Each hour or week or year is like a container being carried on the belt, which we must fill as it passes, if we're to feel that we're making good use of our time. When there are too many activities to fit comfortably into the containers, we feel unpleasantly busy; when there are too few, we feel bored. If we keep pace with the passing containers, we congratulate ourselves for "staying on top of things" and feel like we're justifying our existence; if we let too many pass by unfilled, we feel we've wasted them. If we use containers labeled "work time" for the purposes of leisure, our employer may grow irritated. (He paid for those containers; they belong to him!)

The medieval farmer simply had no reason to adopt such a bizarre idea in the first place. Workers got up with the sun and slept at dusk, the lengths of their days varying with the seasons. There was no need to think of time as something abstract and separate from life: you milked the cows when they needed milking and harvested the crops when it was harvesttime, and anybody who tried to impose an external schedule on any of that—for example, by doing a month's milking in a single day to get it out of the way, or by trying to make the harvest come sooner—would rightly have been considered a lunatic. There was no anxious pressure to "get everything done," either, because a farmer's work is infinite: there will always be another milking and another harvest, forever, so there's no sense in racing toward some hypothetical moment of completion. Historians call this way of living "task orientation," because the rhythms of life emerge organically from the tasks themselves, rather than from being lined up against an abstract timeline, the approach that has become second nature for us today.

Soon, your sense of self-worth gets completely bound up with how you're using time: it stops being merely the water in which you swim and turns into something you feel you need to dominate or control, if you're to avoid feeling guilty, panicked, or overwhelmed…The fundamental problem is that this attitude toward time sets up a rigged game in which it's impossible ever to feel as though you're doing well enough.

Instead of simply living our lives as they unfold in time—instead of just being time, you might say—it becomes difficult not to value each moment primarily according to its usefulness for some future goal, or for some future oasis of relaxation you hope to reach once your tasks are finally "out of the way."

The universal truth behind my specific issues is that most of us invest a lot of energy, one way or another, in trying to avoid fully experiencing the reality in which we find ourselves. We don't want to feel the anxiety that might arise if we were to ask ourselves whether we're on the right path, or what ideas about ourselves it could be time to give up.

We recoil from the notion that this is it—that this life, with all its flaws and inescapable vulnerabilities, its extreme brevity, and our limited influence over how it unfolds, is the only one we'll get a shot at.

After all, it's painful to confront how limited your time is, because it means that tough choices are inevitable and that you won't have time for all you once dreamed you might do.

I don't think the feeling of anxiety ever completely goes away; we're even limited, apparently, in our capacity to embrace our limitations.

In practical terms, a limit-embracing attitude to time means organizing your days with the understanding that you definitely won't have time for everything you want to do, or that other people want you to do—and so, at the very least, you can stop beating yourself up for failing. Since hard choices are unavoidable, what matters is learning to make them consciously, deciding what to focus on and what to neglect, rather than letting them get made by default—or deceiving yourself that, with enough hard work and the right time management tricks, you might not have to make them at all.

"Missing out" is what makes our choices meaningful in the first place. Every decision to use a portion of time on anything represents the sacrifice of all the other ways in which you could have spent that time, but didn't—and to willingly make that sacrifice is to take a stand, without reservation, on what matters most to you.

Richard Bach: "You teach best what you most need to learn."

The general principle in operation is one you might call the "efficiency trap." Rendering yourself more efficient—either by implementing various productivity techniques or by driving yourself harder—won't generally result in the feeling of having "enough time," because, all else being equal, the demands will increase to offset any benefits. Far from getting things done, you'll be creating new things to do.

Think of it as "existential overwhelm": the modern world provides an inexhaustible supply of things that seem worth doing, and so there arises an inevitable and unbridgeable gap between what you'd ideally like to do and what you actually can do.

This helps explain why stuffing your life with pleasurable activities so often proves less satisfying than you'd expect. It's an attempt to devour the experiences the world has to offer, to feel like you've truly lived—but the world has an effectively infinite number of experiences to offer, so getting a handful of them under your belt brings you no closer to a sense of having feasted on life's possibilities. Instead, you find yourself pitched straight back into the efficiency trap. The more wonderful experiences you succeed in having, the more additional wonderful experiences you start to feel you could have, or ought to have, on top of all those you've already had, with the result that the feeling of existential overwhelm gets worse.

the more firmly you believe it ought to be possible to find time for everything, the less pressure you'll feel to ask whether any given activity is the best use for a portion of your time. Whenever you encounter some potential new item for your to-do list or your social calendar, you'll be strongly biased in favor of accepting it, because you'll assume you needn't sacrifice any other tasks or opportunities in order to make space for it. Yet because in reality your time is finite, doing anything requires sacrifice—the sacrifice of all the other things you could have been doing with that stretch of time. If you never stop to ask yourself if the sacrifice is worth it, your days will automatically begin to fill not just with more things, but with more trivial or tedious things, because they've never had to clear the hurdle of being judged more important than something else. Commonly, these will be things that other people want you to do, to make their lives easier, and which you didn't think to try to resist. The more efficient you get, the more you become "a limitless reservoir for other people's expectations," in the words of the management expert Jim Benson.

Meanwhile, the long message from an old friend now living in New Delhi and research for the major article I'd been planning for months would get ignored, because I told myself that such tasks needed my full focus, which meant waiting until I had a good chunk of free time and fewer small-but-urgent tasks tugging at my attention. And so, instead, like the dutiful and efficient worker I was, I'd put my energy into clearing the decks, cranking through the smaller stuff to get it out of the way—only to discover that doing so took the whole day, that the decks filled up again overnight anyway, and that the moment for responding to the New Delhi email or for researching the milestone article never arrived. One can waste years this way, systematically postponing precisely the things one cares about the most.

To approach your days in this fashion means, instead of clearing the decks, declining to clear the decks, focusing instead on what's truly of greatest consequence while tolerating the discomfort of knowing that, as you do so, the decks will be filling up further, with emails and errands and other to-dos, many of which you may never get around to at all.

So maybe it's not that you've been cheated out of an unlimited supply of time; maybe it's almost incomprehensibly miraculous to have been granted any time at all.

In this state of mind, you can embrace the fact that you're forgoing certain pleasures, or neglecting certain obligations, because whatever you've decided to do instead—earn money to support your family, write your novel, bathe the toddler, pause on a hiking trail to watch a pale winter sun sink below the horizon at dusk—is how you've chosen to spend a portion of time that you never had any right to expect.

Principle number one is to pay yourself first when it comes to time.

So if a certain activity really matters to you—a creative project, say, though it could just as easily be nurturing a relationship, or activism in the service of some cause—the only way to be sure it will happen is to do some of it today, no matter how little, and no matter how many other genuinely big rocks may be begging for your attention.

The second principle is to limit your work in progress. Perhaps the most appealing way to resist the truth about your finite time is to initiate a large number of projects at once; that way, you get to feel as though you're keeping plenty of irons in the fire and making progress on all fronts. Instead, what usually ends up happening is that you make progress on no fronts—because each time a project starts to feel difficult, or frightening, or boring, you can bounce off to a different one instead. You get to preserve your sense of being in control of things, but at the cost of never finishing anything important.

The alternative approach is to fix a hard upper limit on the number of things that you allow yourself to work on at any given time. In their book Personal Kanban, which explores this strategy in detail, the management experts Jim Benson and Tonianne DeMaria Barry suggest no more than three items. Once you've selected those tasks, all other incoming demands on your time must wait until one of the three items has been completed, thereby freeing up a slot. (It's also permissible to free up a slot by abandoning a project altogether if it isn't working out. The point isn't to force yourself to finish absolutely everything you start, but rather to banish the bad habit of keeping an ever-proliferating number of half-finished projects on the back burner.)

\[Warren Buffett] tells the man to make a list of the top twenty-five things he wants out of life and then to arrange them in order, from the most important to the least. The top five, Buffett says, should be those around which he organizes his time. But contrary to what the pilot might have been expecting to hear, the remaining twenty, Buffett allegedly explains, aren't the second-tier priorities to which he should turn when he gets the chance. Far from it. In fact, they're the ones he should actively avoid at all costs—because they're the ambitions insufficiently important to him to form the core of his life yet seductive enough to distract him from the ones that matter most.

If you're procrastinating on something because you're worried you won't do a good enough job, you can relax—because judged by the flawless standards of your imagination, you definitely won't do a good enough job. So you might as well make a start.

What you pay attention to will define, for you, what reality is.

Most other resources on which we rely as individuals—such as food, money, and electricity—are things that facilitate life, and in some cases it's possible to live without them, at least for a while. Attention, on the other hand, just is life: your experience of being alive consists of nothing other than the sum of everything to which you pay attention. At the end of your life, looking back, whatever compelled your attention from moment to moment is simply what your life will have been. So when you pay attention to something you don't especially value, it's not an exaggeration to say that you're paying with your life. Seen this way, "distraction" needn't refer only to momentary lapses in focus, as when you're distracted from performing your work duties by the ping of an incoming text message, or a compellingly terrible news story. The job itself could be a distraction—that is, an investment of a portion of your attention, and therefore of your life, in something less meaningful than other options that might have been available to you.

The crucial point isn't that it's wrong to choose to spend your time relaxing, whether at the beach or on BuzzFeed. It's that the distracted person isn't really choosing at all. Their attention has been commandeered by forces that don't have their highest interests at heart.

Achieving total sovereignty over your attention is almost certainly impossible.

Even if you quit Facebook, or ban yourself from social media during the workday, or exile yourself to a cabin in the mountains, you'll probably still find it unpleasantly constraining to focus on what matters, so you'll find some way to relieve the pain by distracting yourself: by daydreaming, taking an unnecessary nap, or—the preferred option of the productivity geek—redesigning your to-do list and reorganizing your desk.

The overarching point is that what we think of as "distractions" aren't the ultimate cause of our being distracted. They're just the places we go to seek relief from the discomfort of confronting limitation.

I wish I could reveal, at this point, the secret for uprooting the urge toward distraction—the way to have it not feel unpleasant to decide to hold your attention, for a sustained time, on something you value, or that you can't easily choose not to do. But the truth is that I don't think there is one. The most effective way to sap distraction of its power is just to stop expecting things to be otherwise—to accept that this unpleasantness is simply what it feels like for finite humans to commit ourselves to the kinds of demanding and valuable tasks that force us to confront our limited control over how our lives unfold.

The way to find peaceful absorption in a difficult project, or a boring Sunday afternoon, isn't to chase feelings of peace or absorption, but to acknowledge the inevitability of discomfort, and to turn more of your attention to the reality of your situation than to railing against it.

There is a very down-to-earth kind of liberation in grasping that there are certain truths about being a limited human from which you'll never be liberated. You don't get to dictate the course of events. And the paradoxical reward for accepting reality's constraints is that they no longer feel so constraining.

Our efforts to influence the future aren't the problem. The problem—the source of all the anxiety—is the need that we feel, from our vantage point here in the present moment, to be able to know that those efforts will prove successful.

So a surprisingly effective antidote to anxiety can be to simply realize that this demand for reassurance from the future is one that will definitely never be satisfied—no matter how much you plan or fret, or how much extra time you leave to get to the airport. You can't know that things will turn out all right. The struggle for certainty is an intrinsically hopeless one—which means you have permission to stop engaging in it.

Whatever you value most about your life can always be traced back to some jumble of chance occurrences you couldn't possibly have planned for, and that you certainly can't alter retrospectively now.

These truths about the uncontrollability of the past and the unknowability of the future explain why so many spiritual traditions seem to converge on the same advice: that we should aspire to confine our attentions to the only portion of time that really is any of our business—this one, here in the present.

This future-focused attitude often takes the form of what I once heard described as the "'when-I-finally' mind," as in: "When I finally get my workload under control/get my candidate elected/find the right romantic partner/sort out my psychological issues, then I can relax, and the life I was always meant to be living can begin." The person mired in this mentality believes that the reason she doesn't feel fulfilled and happy is that she hasn't yet managed to accomplish certain specific things; when she does so, she imagines, she'll feel in charge of her life and be the master of her time. Yet in fact the way she's attempting to achieve that sense of security means she'll never feel fulfilled, because she's treating the present solely as a path to some superior future state—and so the present moment won't ever feel satisfying in itself.

Obviously, it mattered to keep half an eye on the future—there would be vaccinations to be administered, preschools to apply to, and so forth. But my son was here now, and he would be zero years old for only one year, and I came to realize that I didn't want to squander these days of his actual existence by focusing solely on how best to use them for the sake of his future one.

The writer Adam Gopnik calls the trap into which I had fallen the "causal catastrophe," which he defines as the belief "that the proof of the rightness or wrongness of some way of bringing up children is the kind of adults it produces." That idea sounds reasonable enough—how else would you judge rightness or wrongness?—until you realize that its effect is to sap childhood of any intrinsic value, by treating it as nothing but a training ground for adulthood. Maybe it really is a "bad habit," as the Baby Trainers insist, for your one-year-old to grow accustomed to falling asleep on your chest. But it's also a delightful experience in the present moment, and that has to be weighed in the balance; it can't be the case that concerns for the future must always automatically take precedence.

"Because children grow up, we think a child's purpose is to grow up," Herzen says. "But a child's purpose is to be a child. Nature doesn't disdain what only lives for a day. It pours the whole of itself into each moment…Life's bounty is in its flow. Later is too late."

Our lives, thanks to their finitude, are inevitably full of activities that we're doing for the very last time.

One way of understanding capitalism, in fact, is as a giant machine for instrumentalizing everything it encounters—the earth's resources, your time and abilities (or "human resources")—in the service of future profit. Seeing things this way helps explain the otherwise mysterious truth that rich people in capitalist economies are often surprisingly miserable. They're very good at instrumentalizing their time, for the purpose of generating wealth for themselves; that's the definition of being successful in a capitalist world. But in focusing so hard on instrumentalizing their time, they end up treating their lives in the present moment as nothing but a vehicle in which to travel toward a future state of happiness. And so their days are sapped of meaning, even as their bank balances increase.

And yet we'd be fooling ourselves to put all the blame on capitalism for the way in which modern life so often feels like a slog, to be "gotten through" en route to some better time in the future. The truth is that we collaborate with this state of affairs. We choose to treat time in this self-defeatingly instrumental way, and we do so because it helps us maintain the feeling of being in omnipotent control of our lives.

As the author Jay Jennifer Matthews puts it in her excellently titled short book Radically Condensed Instructions for Being Just as You Are, "We cannot get anything out of life. There is no outside where we could take this thing to. There is no little pocket, situated outside of life, [to which we could] steal life's provisions and squirrel them away. The life of this moment has no outside."

De Graaf had put his finger on one of the sneakier problems with treating time solely as something to be used as well as possible, which is that we start to experience pressure to use our leisure time productively, too. Enjoying leisure for its own sake—which you might have assumed was the whole point of leisure—comes to feel as though it's somehow not quite enough.

As long as you're filling every hour of the day with some form of striving, you get to carry on believing that all this striving is leading you somewhere—to an imagined future state of perfection, a heavenly realm in which everything runs smoothly, your limited time causes you no pain, and you're free of the guilty sense that there's more you need to be doing in order to justify your existence. Perhaps we shouldn't be too surprised when the activities with which we fill our leisure hours increasingly come to resemble not merely work but sometimes, as in the case of a SoulCycle class or a CrossFit workout, actual physical punishment—the self-flagellation of guilty sinners anxious to expunge the stain of laziness before it's too late.

In his book Sabbath as Resistance, the Christian theologian Walter Brueggemann describes the sabbath as an invitation to spend one day per week "in the awareness and practice of the claim that we are situated on the receiving end of the gifts of God." One need not be a religious believer to feel some of the deep relief in that idea of being "on the receiving end"—in the possibility that today, at least, there might be nothing more you need to do in order to justify your existence.

And so in order to be a source of true fulfillment, a good hobby probably should feel a little embarrassing; that's a sign you're doing it for its own sake, rather than for some socially sanctioned outcome.

There's a second sense in which hobbies pose a challenge to our reigning culture of productivity and performance: it's fine, and perhaps preferable, to be mediocre at them.

The publisher and editor Karen Rinaldi feels about surfing the same way that I do about cheesy piano rock, only more so: she dedicates every spare moment she can to it, and even wiped out her savings on a plot of land in Costa Rica for better access to the ocean. Yet she readily admits that she remains an appalling surfer to this day. (It took her five years of attempting to catch a wave before she first managed to do so.) But "in the process of trying to attain a few moments of bliss," Rinaldi explains, "I experience something else: patience and humility, definitely, but also freedom. Freedom to pursue the futile. And the freedom to suck without caring is revelatory."

(You'll have noticed how frequently the office microwave still has seven or eight seconds left on the clock from the last person who used it, a precise record of the moment at which the impatience became too much for them to bear.)

One critical aspect of the radical incrementalist approach, which runs counter to much mainstream advice on productivity, is thus to be willing to stop when your daily time is up, even when you're bursting with energy and feel as though you could get much more done. If you've decided to work on a given project for fifty minutes, then once fifty minutes have elapsed, get up and walk away from it. Why? Because as Boice explained, the urge to push onward beyond that point "includes a big component of impatience about not being finished, about not being productive enough, about never again finding such an ideal time" for work. Stopping helps strengthen the muscle of patience that will permit you to return to the project again and again, and thus to sustain your productivity over an entire career.

The final principle is that, more often than not, originality lies on the far side of unoriginality. The Finnish American photographer Arno Minkkinen dramatizes this deep truth about the power of patience with a parable about Helsinki's main bus station. There are two dozen platforms there, he explains, with several different bus lines departing from each one—and for the first part of its journey, each bus leaving from any given platform takes the same route through the city as all the others, making identical stops. Think of each stop as representing one year of your career, Minkkinen advises photography students. You pick an artistic direction—perhaps you start working on platinum studies of nudes—and you begin to accumulate a portfolio of work. Three years (or bus stops) later, you proudly present it to the owner of a gallery. But you're dismayed to be told that your pictures aren't as original as you thought, because they look like knockoffs of the work of the photographer Irving Penn; Penn's bus, it turns out, had been on the same route as yours. Annoyed at yourself for having wasted three years following somebody else's path, you jump off that bus, hail a taxi, and return to where you started at the bus station. This time, you board a different bus, choosing a different genre of photography in which to specialize. But a few stops later, the same thing happens: you're informed that your new body of work seems derivative, too. Back you go to the bus station. But the pattern keeps on repeating: nothing you produce ever gets recognized as being truly your own. What's the solution? "It's simple," Minkkinen says. "Stay on the bus. Stay on the fucking bus." A little farther out on their journeys through the city, Helsinki's bus routes diverge, plunging off to unique destinations as they head through the suburbs and into the countryside beyond. That's where the distinctive work begins. But it begins at all only for those who can muster the patience to immerse themselves in the earlier stage—the trial-and-error phase of copying others, learning new skills, and accumulating experience.

We do each get to decide whether to collaborate with the ethos of individual time sovereignty or to resist it. You can push your life a little further in the direction of the second, communal sort of freedom. For one thing, you can make the kinds of commitments that remove flexibility from your schedule in exchange for the rewards of community, by joining amateur choirs or sports teams, campaign groups or religious organizations. You can prioritize activities in the physical world over those in the digital one, where even collaborative activity ends up feeling curiously isolating. And if, like me, you possess the productivity geek's natural inclination toward control-freakery when it comes to your time, you can experiment with what it feels like to not try to exert an iron grip on your timetable: to sometimes let the rhythms of family life and friendships and collective action take precedence over your perfect morning routine or your system for scheduling your week. You can grasp the truth that power over your time isn't something best hoarded entirely for yourself: that your time can be too much your own.

Many of us know what it is to suspect that there might be richer, fuller, juicier things we could be doing with our four thousand weeks—even when what we're currently doing with them looks, from the outside, like the definition of success. Or maybe you're familiar with the experience of returning to your daily routines, following an unusually satisfying weekend in nature or with old friends, and being struck by the thought that more of life should feel that way—that it wouldn't be unreasonable to expect the deeply engrossing parts to be more than rare exceptions. The modern world is especially lacking in good responses to such feelings: religion no longer provides the universal ready-made sense of purpose it once did, while consumerism misleads us into seeking meaning where it can't be found. But the sentiment itself is an ancient one. The writer of the book of Ecclesiastes, among many others, would instantly have recognized the suffering of Hollis's patient: "Then I considered all that my hands had done, and the toil I had spent in doing it, and behold, all was vanity and a striving after wind, and there was nothing to be gained under the sun."

The Great American Return to Normal is coming … [but] I beg of you: take a deep breath, ignore the deafening noise, and think deeply about what you want to put back into your life. This is our chance to define a new version of normal, a rare and truly sacred (yes, sacred) opportunity to get rid of the bullshit and to only bring back what works for us, what makes our lives richer, what makes our kids happier, what makes us truly proud.

The hazard in any such discussion of "what matters most" in life, though, is that it tends to give rise to a kind of paralyzing grandiosity. It starts to feel as though it's your duty to find something truly consequential to do with your time—to quit your office job to become an aid worker or start a space flight company—or else, if you're in no position to make such a grand gesture, to conclude that a deeply meaningful life isn't an option for you. On the level of politics and social change, it becomes tempting to conclude that only the most revolutionary, world-transforming causes are worth fighting for—that it would be meaningless to spend your time, say, caring for an elderly relative with dementia or volunteering at the local community garden while the problems of global warming and income inequality remain unsolved.

What you do with your life doesn't matter all that much—and when it comes to how you're using your finite time, the universe absolutely could not care less.

No wonder it comes as a relief to be reminded of your insignificance: it's the feeling of realizing that you'd been holding yourself, all this time, to standards you couldn't reasonably be expected to meet. And this realization isn't merely calming but liberating, because once you're no longer burdened by such an unrealistic definition of a "life well spent," you're freed to consider the possibility that a far wider variety of things might qualify as meaningful ways to use your finite time. You're freed, too, to consider the possibility that many of the things you're already doing with it are more meaningful than you'd supposed—and that until now, you'd subconsciously been devaluing them, on the grounds that they weren't "significant" enough.

…virtually any career might be a worthwhile way to spend a working life, if it makes things slightly better for those it serves.

"Time is the substance I am made of," writes Jorge Luis Borges. "Time is a river that sweeps me along, but I am the river; it is a tiger which destroys me, but I am the tiger; it is a fire which consumes me, but I am the fire."

You have to accept that there will always be too much to do; that you can't avoid tough choices or make the world run at your preferred speed; that no experience, least of all close relationships with other human beings, can ever be guaranteed in advance to turn out painlessly and well—and that from a cosmic viewpoint, when it's all over, it won't have counted for very much anyway. And in exchange for accepting all that? You get to actually be here. You get to have some real purchase on life. You get to spend your finite time focused on a few things that matter to you, in themselves, right now, in this moment.

Where in your life or your work are you currently pursuing comfort, when what's called for is a little discomfort?

Pursuing the life projects that matter to you the most will almost always entail not feeling fully in control of your time, immune to the painful assaults of reality, or confident about the future. It means embarking on ventures that might fail, perhaps because you'll find you lacked sufficient talent; it means risking embarrassment, holding difficult conversations, disappointing others, and getting so deep into relationships that additional suffering—when bad things happen to those you care about—is all but guaranteed.

James Hollis recommends asking of every significant decision in life: "Does this choice diminish me, or enlarge me?"

Choose uncomfortable enlargement over comfortable diminishment whenever you can.

Are you holding yourself to, and judging yourself by, standards of productivity or performance that are impossible to meet?

There is a sort of cruelty, Iddo Landau points out, in holding yourself to standards nobody could ever reach (and which many of us would never dream of demanding of other people).

In what ways have you yet to accept the fact that you are who you are, not the person you think you ought to be?

This quest to justify your existence in the eyes of some outside authority can continue long into adulthood. But "at a certain age," writes the psychotherapist Stephen Cope, "it finally dawns on us that, shockingly, no one really cares what we're doing with our life. This is a most unsettling discovery to those of us who have lived someone else's life and eschewed our own: no one really cares except us."

In which areas of life are you still holding back until you feel like you know what you're doing?

How would you spend your days differently if you didn't care so much about seeing your actions reach fruition?

The individual path "is the way you make for yourself, which is never prescribed, which you do not know in advance, and which simply comes into being itself when you put one foot in front of the other." His sole advice for walking such a path was to "quietly do the next and most necessary thing. So long as you think you don't yet know what that is, you still have too much money to spend in useless speculation. But if you do with conviction the next and most necessary thing, you are always doing something meaningful and intended by fate." A modified version of this insight, "Do the next right thing," has since become a slogan favored among members of Alcoholics Anonymous, as a way to proceed sanely through moments of acute crisis. But really, the "next and most necessary thing" is all that any of us can ever aspire to do in any moment. And we must do it despite not having any objective way to be sure what the right course of action even is.

People sometimes ask Derrick Jensen, the environmentalist who cofounded the radical group Deep Green Resistance, how he manages to stay hopeful when everything seems so grim. But he tells them he doesn't—and that he thinks that's a good thing. Hope is supposed to be "our beacon in the dark," Jensen notes. But in reality, it's a curse. To hope for a given outcome is to place your faith in something outside yourself, and outside the current moment—the government, for example, or God, or the next generation of activists, or just "the future"—to make things all right in the end…it means disavowing your own capacity to change things—which in the context of Jensen's field, environmental activism, means surrendering your power to the very forces you were supposed to be fighting.

To give up hope, by contrast, is to reinhabit the power that you actually have. At that point, Jensen goes on, "we no longer have to 'hope' at all. We simply do the work. We make sure salmon survive. We make sure prairie dogs survive. We make sure grizzlies survive … When we stop hoping that the awful situation we're in will somehow resolve itself, when we stop hoping the situation will somehow not get worse, then we are finally free—truly free—to honestly start working to resolve it."

Once you no longer need to convince yourself that the world isn't filled with uncertainty and tragedy, you're free to focus on doing what you can to help. And once you no longer need to convince yourself that you'll do everything that needs doing, you're free to focus on doing a few things that count.

Adopt a "fixed volume" approach to productivity.

Any strategy for limiting your work in progress will help here (here), but perhaps the simplest is to keep two to-do lists, one "open" and one "closed." The open list is for everything that's on your plate and will doubtless be nightmarishly long. Fortunately, it's not your job to tackle it: instead, feed tasks from the open list to the closed one—that is, a list with a fixed number of entries, ten at most. The rule is that you can't add a new task until one's completed. (You may also require a third list, for tasks that are "on hold" until someone else gets back to you.) You'll never get through all the tasks on the open list—but you were never going to in any case, and at least this way you'll complete plenty of things you genuinely care about.

A complementary strategy is to establish predetermined time boundaries for your daily work. To whatever extent your job situation permits, decide in advance how much time you'll dedicate to work—you might resolve to start by 8:30 a.m., and finish no later than 5:30 p.m., say—then make all other time-related decisions in light of those predetermined limits. "You could fill any arbitrary number of hours with what feels to be productive work," writes Cal Newport, who explores this approach in his book Deep Work. But if your primary goal is to do what's required in order to be finished by 5:30, you'll be aware of the constraints on your time, and more motivated to use it wisely.

Serialize, serialize, serialize.

Train yourself to get incrementally better at tolerating that anxiety, by consciously postponing everything you possibly can, except for one thing.

Decide in advance what to fail at.

the great benefit of strategic underachievement—that is, nominating in advance whole areas of life in which you won't expect excellence of yourself—is that you focus that time and energy more effectively. Nor will you be dismayed when you fail at what you'd planned to fail at all along. "When you can't do it all, you feel ashamed and give up," notes the author Jon Acuff, but when you "decide in advance what things you're going to bomb … you remove the sting of shame." A poorly kept lawn or a cluttered kitchen are less troubling when you've preselected "lawn care" or "kitchen tidiness" as goals to which you'll devote zero energy.

There's scope to fail on a cyclical basis: to aim to do the bare minimum at work for the next two months, for example, while you focus on your children, or let your fitness goals temporarily lapse while you apply yourself to election canvassing. Then switch your energies to whatever you were neglecting. To live this way is to replace the high-pressure quest for "work-life balance" with a conscious form of imbalance, backed by your confidence that the roles in which you're underperforming right now will get their moment in the spotlight soon.

Focus on what you've already completed, not just on what's left to complete.

Consolidate your caring.

…it's also a machine for getting you to care about too many things, even if they're each indisputably worthwhile. We're exposed, these days, to an unending stream of atrocities and injustice—each of which might have a legitimate claim on our time and our charitable donations, but which in aggregate are more than any one human could ever effectively address.

Once you grasp the mechanisms operating here, it becomes easier to consciously pick your battles in charity, activism, and politics: to decide that your spare time, for the next couple of years, will be spent lobbying for prison reform and helping at a local food pantry—not because fires in the Amazon or the fate of refugees don't matter, but because you understand that to make a difference, you must focus your finite capacity for care.

Embrace boring and single-purpose technology.

An alternative, Shinzen Young explains, is to pay more attention to every moment, however mundane: to find novelty not by doing radically different things but by plunging more deeply into the life you already have. Experience life with twice the usual intensity, and "your experience of life would be twice as full as it currently is"—and any period of life would be remembered as having lasted twice as long.

Be a "researcher" in relationships…when presented with a challenging or boring moment, try deliberately adopting an attitude of curiosity, in which your goal isn't to achieve any particular outcome, or successfully explain your position, but, as Hobson puts it, "to figure out who this human being is that we're with." Curiosity is a stance well suited to the inherent unpredictability of life with others, because it can be satisfied by their behaving in ways you like or dislike—whereas the stance of demanding a certain result is frustrated each time things fail to go your way.

Cultivate instantaneous generosity.