Highlights from

The Miracle of Mindfulness by Thich Nhat Hanh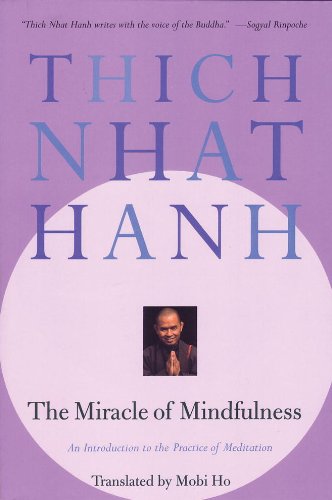 Highlights from this book
Then Allen said, "I've discovered a way to have a lot more time. In the past, I used to look at my time as if it were divided into several parts. One part I reserved for Joey, another part was for Sue, another part to help with Ana, another part for household work. The left over I considered my own. I could read, write, do research, go for walks. But now I try not to divide time into parts anymore. I consider my time with Joey and Sue as my own time. When I help Joey with his homework, I try to find ways of seeing his time as my own time. I go through his lesson with him, sharing his presence and finding ways to be interested what we do during that time. The time for him becomes my own time. The same with Sue. The remarkable thing is that now I have unlimited time for myself!"

…I suggest to those who come to the meditation sessions that each person should try hard to reserve one day out of the week to devote entirely to their practice of mindfulness.

The feeling that any task is a nuisance will soon disappear if it is done in mindfulness. Take the Zen Masters. No matter what task or motion they undertake, they do it slowly and evenly, without reluctance.

At lunchtime, prepare a meal for yourself. Cook the meal and wash the dishes in mindfulness. In the morning, after you have cleaned and straightened up your house, and in the afternoon, after you have worked in the garden or watched clouds or gathered flowers, prepare a pot of tea to sit and drink in mindfulness. Allow yourself a good length of time to do this…drink your tea slowly and reverantly, as if it is the axis on which the whole earth revolves—slowly, evenly, without rushing toward the future. Live the actual moment. Only this actual moment is life. Don't be attached to the future. Don't worry about things you have to do. Don't think about getting up or taking off to do something. Don't think about "departing".

If you cannot find joy in peace in these very moments of sitting, then the future itself will only flow by as a river flows by, you will not be able to hold it back, you will be incapable of living the future when it has become the present. Joy and peace are the joy and peace possible in this very hour of sitting. If you cannot find it here, you won't find it anywhere. Don't chase after your thoughts as a shadow following its object. Don't run after your thoughts. Find joy and peace in this very moment.

Find a photo of yourself as a child. Sit in the full or half lotus. Begin to follow your breath. After 20 breaths, begin to focus your attention on the photo in front of you. Recreate and live again the five aggregates of which you were made up at the time the photo was taken: the physical characteristics of your body, your feelings, perceptions, mind functionings, and consciousness at that age. Continue to follow your breath. Do not let your memories lure you away or overcome you. Maintain this meditation for 15 minutes. Maintain the half smile. Turn your mindfulness to your present self. Be conscious of your body, feelings, perceptions, mind functionings, and consciousness in the present moment. See the five aggregates which make up yourself. Ask the question, "who am I?" The question should be deeply rooted in you, like a new seed nestled deep in the soft earth and damp with water. The question "who am I?" should not be an abstract question to consider with your discursive intellect. The question "who am I?" will not be confined to your intellect, but to the care of the whole of the five aggregates. Don't try to seek an intellectual answer. Contemplate for 10 minutes, maintaining light but deep breath to prevent being pulled away be philosophical reflection.

Sit in a dark room by yourself, or alone by a river at night, or anywhere else where there is solitude. Begin to take hold of your breath. Give rise to the thought, "I will use my finger to point at myself," and then instead of pointing at your body, point away in the opposite direction. Contemplate seeing yourself outside of your bodily form. Contemplate seeing your bodily form present before you—in the trees, the grass and leaves, the river. Be mindful that you are in the universe and the universe is in you: if the universe is, you are; if you are, the universe is. There is no birth. There is no death. There is no coming. There is no going.

Contemplate the image of the person who has caused you the most suffering. Regard the features you hate or despise the most and find the most repulsive. Try to examine what makes this person happy and what causes suffering in his daily life. Contemplate the person's perceptions; try to see what patterns of thought and reason this person follows. Examine what motivates this person's hopes and actions. Finally consider the person's consciousness. See whether his views and insights are open and free or not, and whether or not he has been influenced by any prejudices, narrow-mindedness, hatred, or anger. See whether or not he is master of himself. Continue until you feel compassion rise in your heart like a well filling with fresh water and your anger and resentment disappear. Practice this exercise many times on the same person.

…take the situation of a country suffering war or any other situation of injustice. Try to see that every person involved in the conflict is a victim. See that no person, including all those in warring parties or in what appear to be opposing sides, desires the suffering to continue. See that it is not only one or a few persons who are to blame for the situation. See that the situation is possible because of the clinging to ideologies and to an unjust world economic system which is upheld by every person through ignorance or through lack of resolve to change it. See that two sides in a conflict are not really opposing, but two aspects of the same reality. See that the most essential thing is life and that killing or oppressing one another will not solve anything. Remember the Sutra's words: "In the time of war / Raise in yourself the Mind of Compassion / Help living beings / Abandon the wil l to fight / Wherever there is furious battle / Use all your might / To keep both sides' strength equal / And then step into the conflict to reconcile" —Vimalakirti Nirdesa. Meditate until every reproach and hatred disappears, and compassion and love rise like a well of fresh water within you. Vow to work for awareness and reconciliation by the most silent and unpretentious means possible.

Detachment: sit in the full or half lotus. Follow your breath. Recall the most significant achievements in your life and examine each of them. Examine your talent, your virtue, your capacity, the convergence of favorable conditions that have led to success. Examine the complacency and arrogance that have arisen from the feeling that you are the main cause for such success. Shed the light of interdependence on the whole matter to see that the achievement is not really yours but the convergence of various conditions beyond your reach. See to it that you will not be bound to these achievements. Only when you can relinquish them can you really be free and no longer assailed by them. Recall the bitterest failures in your life and examine each of them. Examine your talent, your virtue, your capacity, and the absence of favorable conditions that led to the failures. Examine to see all the complexes that have arisen within you from the feeling that you are not capable of realizing success. Shed the light of interdependence on the whole matter to see that failures cannot be accounted for by your inabilities but rather by the lack of favorable conditions. See that you have no strength to shoulder these failures, that these failures are not your own self. See to it that you are free from them. Only when you can relinquish them can you really be free and no longer assailed by them.